Diabetes can affect your body in a variety of ways, and your eyes are no exception. The condition increases the risk of developing various eye diseases, and you should receive regular examinations to protect your ocular health. But how do diabetic eye exams differ from standard eye examinations?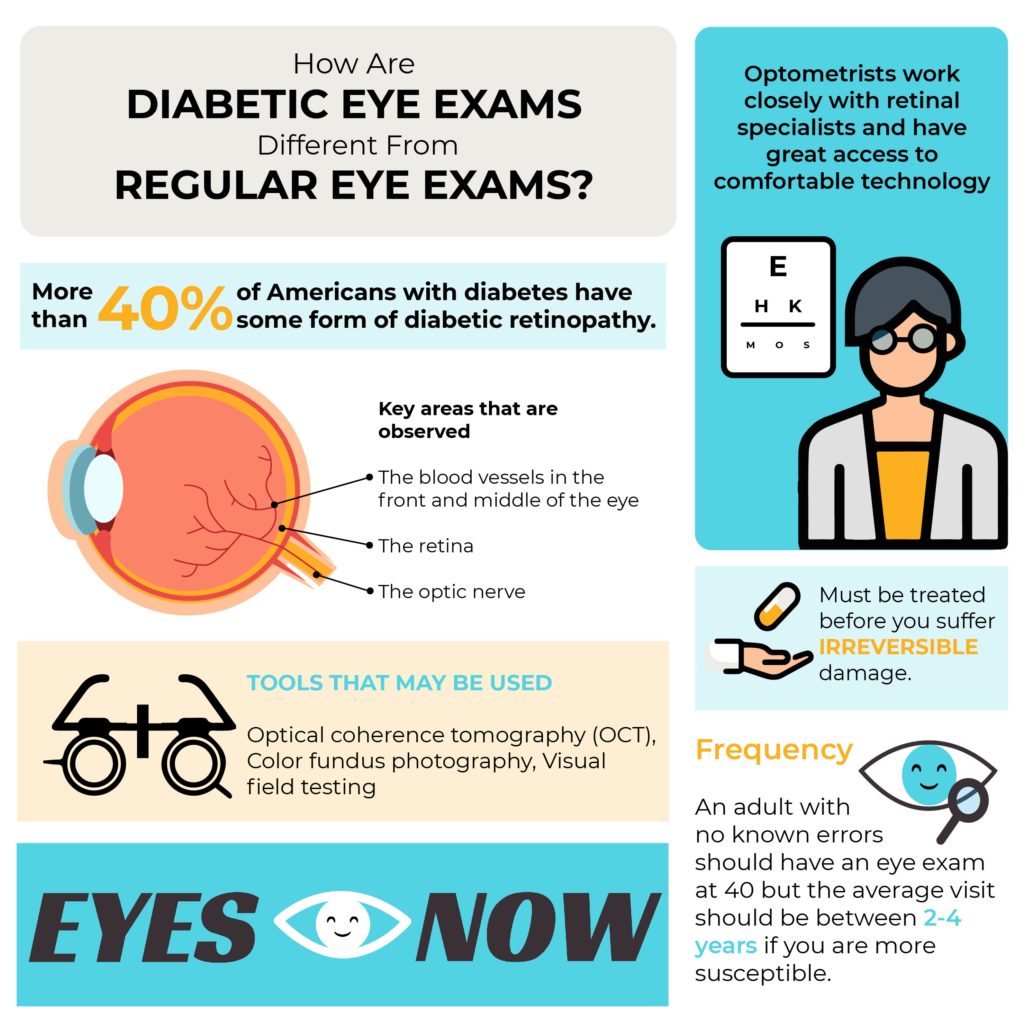 Standard & Diabetic Eye Exams
A comprehensive eye exam is used to ensure your eye health and vision. At the start of your eye exam, your optometrist will ask you questions about your vision and medical history. During the examination, you can expect the following steps:
A visual acuity test to determine your vision
A measurement of your eye pressure.
Evaluation of your eye health
After your exam, your optometrist will discuss your results. If your vision requires correction, you may be prescribed eyeglasses or contact lenses.
You will discuss your eye health as well, specifically if your optometrist noticed any eye conditions or diseases. If you receive any diagnosis, further testing or treatment will be discussed.
Diabetic Eye Exams
A diabetic eye exam is similar to a standard comprehensive eye examination, though additional attention will be placed on your eye health. You'll be asked questions catered to your overall health, including your diabetes. You may be asked about:
Any symptoms you're experiencing
Any health issues you're experiencing and control of blood sugar
Any other relevant information
During a diabetic eye exam, you'll have dilating eye drops administered to enlarge your pupils or an OPTOMAP RETINAL IMAGING conducted. Both allow your doctor to effectively see the back of your eye. A few key areas may be observed, including:
The blood vessels in the front and middle of the eye
The retina
The optic nerve
Diabetic eye exams differ from standard eye exams due to the extra care given. A report is sent to your primary care doctor letting them know about your optometrist's findings.
What are the other ways a diabetic exam differs from a regular examination?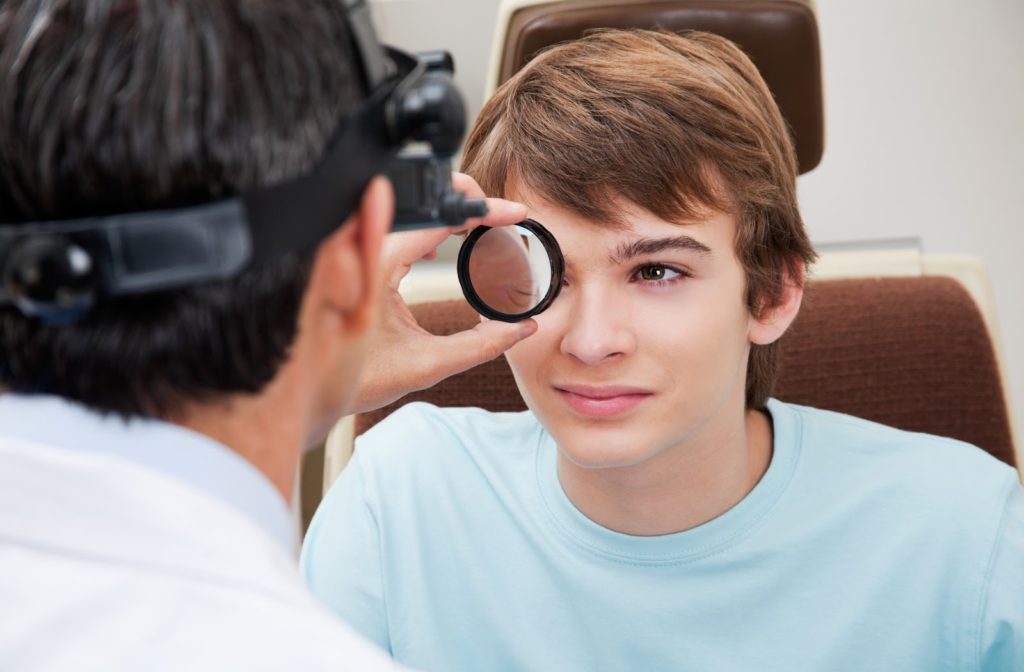 How Do They Differ?
Diabetes can put your eyes at an increased risk of conditions such as cataracts and glaucoma. Another major concern is the possible development of diabetic retinopathy.
This condition is diagnosed through a dilated eye exam or optomap RETINAL imaging. Thus allowing the optometrist to see your entire eye. What else is different between a diabetic and a standard eye exam?
Frequency
A regularly scheduled eye examination is vital to your ocular health, and this is especially true for people affected by diabetes. An adult with no known errors should receive an eye exam at the age of 40, but the average visit takes place between every two to four years if you're more susceptible to eye conditions.
Your first eye exam after diagnosis depends on the type of diabetes you have. Those diagnosed with type 1 diabetes should have an eye exam within the first five years of diagnosis. If you have type 2 diabetes, you should receive an examination shortly after diagnosis. This specific type of diabetes can go undiagnosed for years and diabetic retinopathy may have already developed.
After your initial visit, the American Diabetes Association recommends an annual examination to ensure your eyes are healthy. This visit is still needed if you have no symptoms; many eye conditions can have no presenting symptoms. Many people assume clear vision means a regular eye exam is not needed.
A focus on your eye health
In a diabetic eye exam, your eyes are thoroughly checked for signs of disease, and your doctor may use an assortment of different tools. Tools may be used during a standard eye examination to effectively assess your eye health.
Optical coherence tomography (OCT)
Optical coherence tomography is used to assess the health of the vascular system behind your retina. It can detect any signs of diabetic retinopathy and diabetic macular edema (DME).
Color fundus photography
A fundus camera will take detailed images of the interior of your eye. The equipment allows your optometrist to effectively examine your optic disc, retina, and vascular system and can help detect signs of diabetic retinopathy and DME.
Visual field testing
Visual field tests determine how wide your field of view is. Testing can indicate if you have any blind spots in your vision.
It is important to be seen by an optometrist who can properly administer diabetic eye exams as they have the proper tools and knowledge to effectively care for your eyes. If your optometrist finds you have diabetic retinopathy, how can you manage this disease?
How is Diabetic Retinopathy Managed?
More than 40% of Americans with diabetes have some form of diabetic retinopathy. Depending on the stage of diabetic retinopathy you are in, your optometrist will help you manage this disease accordingly.
Overall, your risk of this condition increases the longer you have had diabetes. Nonproliferative diabetic retinopathy refers to the early stage of the disease while proliferative diabetic retinopathy refers to the advanced stage.
Nonproliferative diabetic retinopathy
This is the initial stage of diabetic retinopathy, and symptoms may be mild or nonexistent. Nonproliferative diabetic retinopathy is usually managed through careful examination and an increased exam frequency with your optometrist. They may give recommendations on effectively managing your blood sugar and blood pressure as well.
Proliferative diabetic retinopathy
If you are affected by proliferative diabetic retinopathy, you will need treatment from a board-certified retinal specialist. Proliferative diabetic retinopathy must be treated before you suffer irreversible damage, and your optometrist can identify what needs to be treated before referring you to their chosen retinal specialist.
A specialist is also required if you are suffering from diabetic macular edema. This condition can lead to vision problems or blindness due to bulges causing blood and fluid to leak into the retina. Your optometrist can assess the current damage to your eyes before referring you to a retinal specialist.
Diabetes can affect your life in many ways, including your eyes. Even if you are not having any visible symptoms, regularly scheduled examinations can help ensure your eyes stay healthy.
Why get my diabetic eye exam at the optometrist vs retinal specialist?
Most diabetic patients do not have retinopathy. Retinal specialists run very busy practices and you may find it difficult to get access. Optometrists work closely with retinal specialists and have great access to comfortable technology. Our offices are open 7 days a week to better serve our patients.
Protect Your Eye Health A work closely with the right now specialists to make sure they are seeing the patients that they alone can help
Maintaining your eye health when you have diabetes can seem challenging, but it doesn't have to be. Optometrists understand patients with diabetes may experience stress when thinking about their eye health. If you have diabetes, you can prevent potential vision loss by eating well, exercising, and attending regular eye examinations. If you aren't experiencing any symptoms, do not skip your appointments. Call your optometrist if you experience any changes to your vision.